This is an interesting question and my answer to this question would be you should probably care about your Klout Score as much as you care about your Alexa Rating.
Just in case you don't know Klout.com is a web metrics site that measures your social media reach and activity across all the major Social Sites and then gives you a Klout score between 1 and 100
At the end of the day both your Klout and Alexa Ranks are really not that important in the whole scheme of things because you don't have to have a great Alexa Rank to have good serps or good Page Rank and you do you really need to measure your social media score? 
This being said i do love them both and work to to get them as good as i can, they are both a great measure of how well your doing providing you do it the right way.
Did You Know The Average Klout Score is…
The average Klout score is around 40 out of 100 with only 5% of users having a score of 65 or above.
On finding this out i wanted to find out what my Klout score was, i was intrigued and wanted to know, so i re visited my account that i had made many moons ago.
Logging in i found my score was around 42 so was just average but then i had only attached my Facebook account. I was interested to see how i ranked when i added my other sites to my account, especially as im a much much bigger Google Plus user than i am with Facebook, then i also had to add my Twitter and my LinkedIn.
After adding all my related services i saw that my score jumped to…..
So as you see my score is in the top 5% of scores. 🙂
Benefits Of Using Klout
There are a few benefits to using and getting involved with Klout the main one is based around Twitter. There is a great Google Chrome Extension imaginitively called Klout. You can also get a FireFox Version Here
The extension is basically a share button that allows you to share content via Klout just by clicking the button but that is not all it also has a very useful function twitter where it adds in the Klout score of any user who is tweeting so you can see who is a real influencer on Twitter
This is what you get when you Klout share with the chrome extension. As you can see your content is shared to both Twitter and Facebook with the option of adding or changing the content description.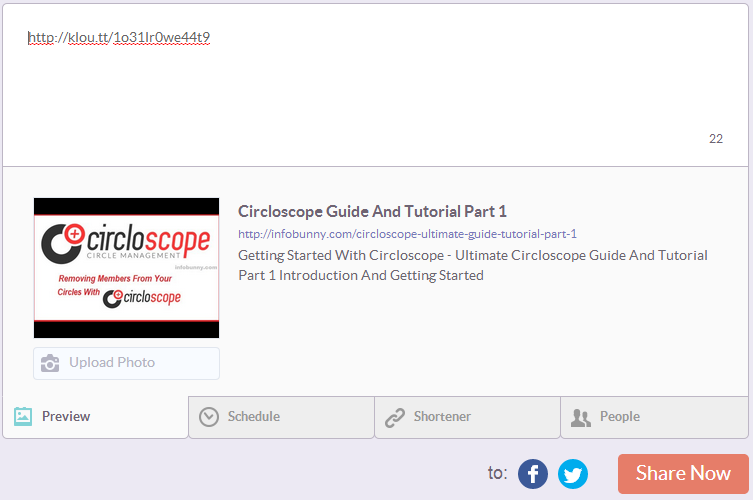 Conclusion
Is Klout worth the effort? Well for me it has been, once you add all your social media services you can just add your Klout Score Badge to your blog then you just do what you normally do and see how it affects your score. Could this just be a distraction? Maybe, but don't we all need a distraction from time to time.
If you have any questions then comment them below and i be happy to answer them and i would also like to know what you Klout Score is, if your a member.
To your continued success regards Dexter Roona
Here are some of the other popular Social Networks you can find me on.
PS – Did you like this article? Comment, like, and share, we'll love ya for it!
PSS – Make sure you get on our mailing list and stay in the loop …